I took today off to play with some Mommy Friends and their little ones. LLB and I hit the local animal farm that does a wonderful Pumpkinville setup. LLB was free and I was $11 and it was worth every stinkin' penny.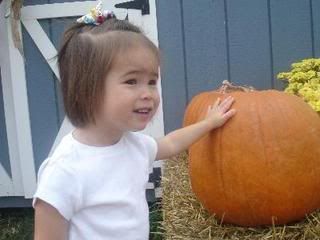 LLB played with the animals, getting to pet and touch a cow, sheep, goat and more. We took a hayride, and she actually behaved the whole time. She did the moon bounce with her girlfriends, a sight that you had to see to believe. Four toddlers and a moonbounce is a GRAND thing!!!!
We had a hot dog for lunch and brought a LLB-sized pumpkin home with us.
It was a GRAND day. The kind that makes you want the crisp air of fall to come already and one that makes you want to smother your little one in kisses. I write this because I think you should run, not walk, to your nearest fall festival farm or garden and enjoy a day with your little one. You will thank me for it. I promise!
Pumped Up for Pumpkins,
Bronwyn