Polka dots, that is! I HEART HEART HEART polka dots, I don't know where the obsession has come from, but alas it's here. A friend just announced her employment with GAP and I found myself on their site, convinced I could find a way to make her use her discount on LLB! Here's what I found: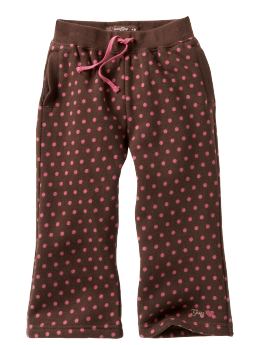 Polka-dot knit pants
Cute dots aside, these pants are brown and pink, only my FAVORITE color combo. Consider them sold.
\
Hooded polka-dot dress
It's sick really, I'm so typical and easy to figure out. Brown, check. Pink, check. Polka Dots, check. DONE!

2-in-1 polka-dot graphic T
Gasp! It's not pink or brown but it is SUPER-cute and, of course, polka-dotted.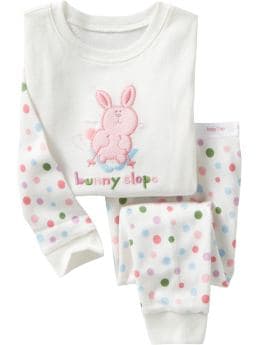 Bunny slope long sleep set
I think the ONLY thing I like better than polka dots right now is pajamas. This has been obsession since before LLB was born. Little kid pajamas are just too cute. LLB has a MILLION pairs and counting. Add polka dots and I'm there.
Phew, I think I'm seeing spots now. Now get to shopping!
Going Around in Circles,
Bronwyn