I did it! I got a haircut and some color done. I am overall VERY pleased with it. I went with a layered cut with long bangs (great minds think alike Alanna). I took some time perusing pictures and came up with an OLD shot of Jennifer Aniston with a layered shoulder-length 'do that I liked.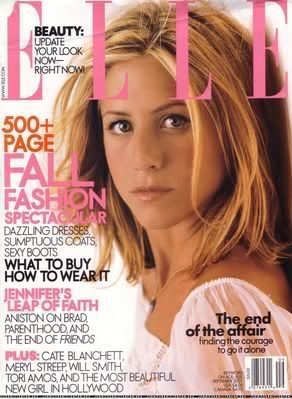 Then I messed around with InStyle.com's new
hair makeover tool.
It wasn't an exact science but I found a GORGEOUS layered style on Rachel McAdams. Rachel's hair was blond but I messed around with a warm brown with high and low lights. Fall is about brown for me, I love the deep reds and browns of fall hair and I was determined to get something stylish done to my hair.
I obviously didn't want a length this long, but I LOVED how the bangs hit my glasses in my doctored up photo. I even monkeyed around in photoshopped the style shorter. I don't have it saved locally, so you'll have to let your imagination do the magic for you.
So I took all 5 million of my printouts and headed to my stylist. She was excited to hear that I wanted to go brown and immediately got to work. 2.5 hours later I left the salon a new woman! She did a FAB job. I can't wait until I can get my hands on it tomorrow and style it in a chunky, texturized way.
What did I get done? What does it look like? Sorry but you'll have to wait until tomorrow for that! I can't share my hair with the world until I've made it beautiful :-P!
Sidenote: The hubby loves it and the LLB didn't cry when she saw me, so it must not be too drastic or bad!
The Sun (and My Hair)'ll Come Out Tomorrow,
Bronwyn